Research Basis
Research has shown that youth who are involved in gangs show a lack of important socialization skills, have low self-esteem, tend to be poor academic achievers, have low levels of self-control, and have poor refusal skills.[1] Therefore, the G.R.E.A.T. Program focuses on four important skill areas:
Personal: Goal setting, decision making, anger management
Resiliency: Message analysis, problem solving
Resistance: Refusal skills, recognition of peer pressure, anti-gang and -violence norms
Social: Communication skills, conflict resolution, social responsibility, empathy, and perspective taking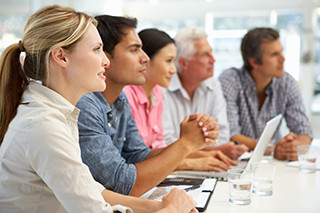 In order to design effective curricula that fulfill G.R.E.A.T.'s mission, additional extensive research was conducted to (1) identify risk factors associated with delinquent behavior and gang membership and (2) evaluate prevention programming.
Risk Factors: There are several risk factors that play a part in the likelihood that youths will commit an act of violence. Many of these factors are the same as those for youths who are at risk of joining a gang, and they include, but are not limited to, the following:
Aggression
Substance use (especially marijuana and alcohol)
Antisocial or delinquent beliefs
Family poverty
Broken home
Low achievement in elementary school
Identified as learning-disabled
Association with delinquent/aggressive peers
High-crime neighborhood
Prevention Programming: Research has shown that school-based instructional programs that are the most promising in long-term prevention strategies have certain characteristics. The programs are:
Focused on developing skills.
Dedicated to program fidelity and instructional best practices.
Conducted over an extended period of time.
Consistently taught, supported, and reinforced by instructors.[2]
It was also found that effective prevention practices increase protective factors in youth. These practices educate youth on how to recognize and manage their emotions, appreciate the perspectives of others, make good decisions, and handle interpersonal situations and conflicts.
The G.R.E.A.T. Program incorporates these prevention practices to increase protective factors, such as school bonding, feeling safe at school, having the ability to solve problems, and being resourceful in seeking out sources of support.
This research on the identification of risk factors, prevention programming, and protective factors helped the Curriculum Development and Review Committee identify the skills that the curricula should teach. In addition, it helped the committee identify the learning theories and instructional strategies that should be used to teach youth these skills.
---
[1] Esbensen, F.-A. 2000. "Preventing Adolescent Gang Involvement," Juvenile Justice Bulletin, Office of Juvenile Justice and Delinquency Prevention.
[2] Botvin, G., E. Baker, L. Dusenbury, E. Botvin, and T. Diaz. 1995. "Long-Term Follow-Up Results of a Randomized Drug Abuse Prevention Trial," JAMA, 273:1106–1112.