Middle School Component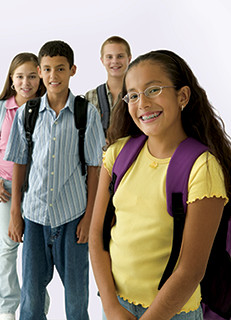 The middle school curriculum is taught by specially trained, uniformed law enforcement professionals called G.R.E.A.T. instructors. It is designed to be taught at the entry level of junior high or middle school. However, it may be taught in the sixth, seventh, or eighth grade. The lessons must be presented consecutively, with no less than one day and no more than two weeks between lessons.
Implementation of the 13-lesson middle school curriculum produces the best results when students first complete the G.R.E.A.T. Elementary School Curriculum. However, if this is not feasible, the middle school curriculum can be taught as a stand-alone program.
One unique feature of this curriculum is the project called "Making My School a G.R.E.A.T. Place." Its main purpose is to provide students with the opportunity to apply the skills they have learned. Research has shown that school bonding—that is, how connected a child feels to his or her school—is an important protective factor against joining a gang and participating in criminal activities. The goal is to increase the students' bond to the school and to have a positive impact on how students view their school.
The time frame for the lessons ranges from 30 to 45 minutes, with the following performance objectives:
Welcome to G.R.E.A.T.: A Gang and Violence Prevention Program

Students will identify the relationship among crime, violence, drug abuse, and gangs.

What's the Real Deal?: The Real Deal on Gangs and Violence

Students will analyze information sources and identify realistic, normative beliefs about gangs and violence.

It's About Us: Being Part of the Community

Students will define their roles and responsibilities in the family, school, and community.

Where Do We Go From Here?: How to Set Goals

Students will write realistic and achievable goals.

Decisions, Decisions, Decisions: Making the Right Choice

Students will practice decision-making skills.

Do You Hear What I Am Saying?: How to Communicate Effectively

Students will practice effective communication skills.

Walk in Someone Else's Shoes: Thinking of Others

Students will identify active-listening skills, how to recognize the emotional state of others, and how to demonstrate empathy toward victims of crime and violence.

Say It Like You Mean It: Some Ways of Refusing

Students will practice effective refusal skills.

Getting Along Without Going Along: Dealing With Peers

Students will continue to practice effective refusal skills.

Keeping Your Cool: Managing Your Anger

Students will practice anger-management skills.

Keeping It Together: How to Calm Others

Students will identify how anger-management skills help prevent violence and conflicts.

Working It Out: How to Solve Conflicts

Students will practice conflict-resolution techniques.

G.R.E.A.T. Days Ahead: Applying Your G.R.E.A.T. Skills

Students will explain how their G.R.E.A.T. project helped them develop a feeling of commitment and ownership of their school and their community.