Families Component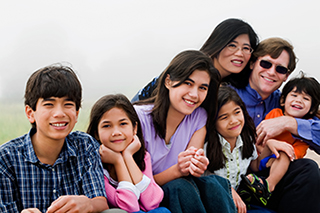 Because a healthy family life is so critical to a child's development, G.R.E.A.T. also offers a six-session, research-based, family-strengthening training program. It is designed to help families develop skills and strategies that will foster a healthier home environment.
G.R.E.A.T. Families complements the middle and elementary school curricula and is targeted toward parents/guardians and children aged 10 to 14. The primary goal is to strengthen communities by strengthening families. To accomplish this, parents and youths are engaged in cooperative group activities, facilitated group discussions, and skills practice. Families are also given resources they can reference after the training.
Each session is approximately two hours in length and is facilitated under the guidance of a G.R.E.A.T. instructor who is specially trained as a G.R.E.A.T. Families Facilitator. The instructor works closely with one or two cofacilitators to guide as many as ten families through the program.
Sessions are usually held on evenings or weekends to avoid conflict with work schedules. The sponsoring agency may offer child care for younger children of participating families.
The G.R.E.A.T. Families Curriculum consists of the following sessions:
Session 1: You Are G.R.E.A.T. Families—We Are a G.R.E.A.T. Community
Impact of violence and gang involvement
Family roles in safe and healthy communities
Addressing family obstacles and solutions
Session 2: Improving Family Relationships
Spending quality time as a family
Making family a priority
Family goals and decision making
Session 3: G.R.E.A.T. Communication
Types of communication
Effective communication techniques
Overcoming communication barriers
Session 4: Rules, Limits, and Discipline
Meeting everyone's needs
Importance of clear, consistent rules and limits
Role of effective discipline and monitoring
Session 5: Reducing Bullying by Developing Personal Character
Addressing bullying
Positive role models
Developing positive character attributes
Addressing common personal dilemmas
Session 6: Families in the Electronic Age
Influence of technology
Internet safety for families
Family monitoring plan