Elementary School Component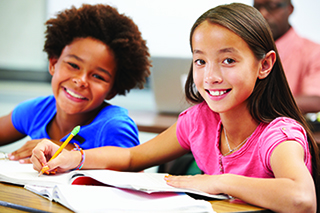 The six-lesson elementary school curriculum is designed for fourth- or fifth-grade students (ages 8-10). It introduces students to G.R.E.A.T. skills and concepts and begins the process of behavioral and attitude change. Although not required, the ideal goal is to use the elementary curriculum as a precursor to the middle school curriculum, in which students will receive more advanced instruction.
The elementary curriculum is taught by specially trained, uniformed law enforcement professionals called G.R.E.A.T. instructors. The lessons must be presented consecutively, with no less than one day and no more than two weeks between lessons.
One unique feature of this curriculum is the use of family letters. A letter is sent home after each lesson for the parent or guardian to review. It serves to communicate the purpose of the lesson and encourage parent-student interaction. Family bonding is a protective factor; therefore, the G.R.E.A.T. Program encourages family communication and involvement.
The time frame for the lessons ranges from 30 to 45 minutes, with the following performance objectives:
G.R.E.A.T. Beginnings

Students will identify facts about the G.R.E.A.T. Program and various aspects about violence prevention.

To Do or Not to Do

Students will demonstrate decision-making skills and identify people whom they can talk to if they need help making decisions.

Loud and Clear

Students will demonstrate effective communication skills.

Staying Cool When the Heat Is On

Students will practice controlling their anger and develop strategies to manage their anger.

We're All in This Together

Students will identify individual and group differences and discuss respecting others.

G.R.E.A.T. Days Ahead

Students will identify ways to be a G.R.E.A.T. citizen.