Summer Component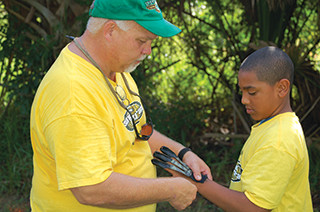 The G.R.E.A.T. Summer Component is an opportunity for G.R.E.A.T. instructors to continue building on the middle and elementary school curricula during the time that students are not in school. Although the summer component is most beneficial when used as reinforcement for students who have received the middle school or elementary school curriculum, students may be selected from other programs or directly from the community. The goals are to:
Build upon the school-based G.R.E.A.T. curricula and reinforce goals by offering youth an opportunity to enhance their skills.
Strengthen law enforcement's relationship with youth and the community.
Give youth positive alternatives to gang involvement.
Improve public/community relations.
Provide structured activities when students are not in school.
Although each law enforcement agency's program may be customized to address its particular issues and concerns, all programs must teach G.R.E.A.T. goals and skills and help students develop life and career skills. Instruction in G.R.E.A.T. principles, field trips, recreational and educational activities, service projects, and sporting events combine to make an effective G.R.E.A.T. Summer Program. The agency's program can also form positive community partnerships in the public and private sectors through a variety of community service projects.
Example Summer Program Topics
G.R.E.A.T. skills (required subject), including:

Conflict resolution
Goal setting
Communication skills

Bullying
Self-image
Juvenile law and procedures
Cultural awareness/sensitivity
Career exploration
Example Summer Program Activities/Trips
Structured games
Community service projects
Basketball camp
Fire department
Hospitals
Camping
Horseback riding
Skating
Fishing